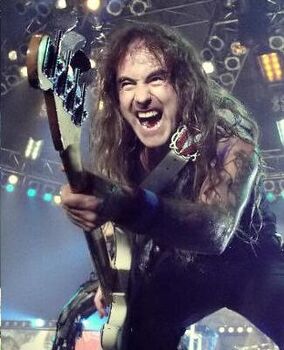 Full Name: Stephen Percy Harris
Born 12th of March, 1956 in Leytonstone, Essex (London), England
Years active: 1975-present
Steve Harris is the founding member of Iron Maiden. He's known as the bassist and primary songwriter, as well as occasional keyboardist in the studio. He's also produced and co-produced a some of their albums. Harris is the only member of Iron Maiden to to remain consistently in the group since it's creation.
As a young boy, he had an ambition to become a professional footballer. Eventually in his teenage years he grew more interested in music, and began participating in bands. The first two groups Harris played for were Gypsy's Kiss and Smiler, two London pub bands. In the meantime to pay for equipment, he was an architectual draughtsman, and later a street sweeper.
Steve Harris's first solo album, British Lion, was released on September 24, 2012.
Musical CareerEdit
Even before Steve purchased his first bass, he was interested in learning the drums. But according to Harris himself, he doesn't have the "craziness" to be a drummer. In addition to that, he didn't have the money to buy a drum kit.
Harris, still wanting to be in the rhythm section of a band, decided on the bass guitar. He bought his first bass, a Fender Percision knock-off, in 1971 for the price of 40 pounds. Harris is entirely self-taught.
10 months later he joined Gypsy's Kiss (previously known as Influence) and played gigs at the Cart and Horse, a local pub. After they seperated, he auditioned for another band called Smiler. He remained in that band for a while, but after he started writing songs to present to them, the other members (later to be in an early line-up of Iron Maiden) claimed the songs were too complicated. He subsequently left.
Iron Maiden was created on Christmas Day 1975. According to Harris, the name "Iron Maiden" was inspired by a film called The Man in the Iron Mask. The rest is history.
Personnal Life
Edit
Harris has six children. Their names are Lauren, Kerry, Faye, George, Stanley, and Maisie. Lauren Harris is a vocalist and songwriter in the band Six Hour Sundown. Her band has supported Iron Maiden on A Matter of Life and Death Tour in 2006, and the Somewhere Back in Time World Tour in 2008. His eldest son, George, is the lead guitarist of Burn Reason.
In 1993 Harris divorced his wife, Lorraine, whom he was married to for 16 years. He described it as: "probably the toughest time I've faced." Several songs released since then describe that experience, notably the X Factor (1995) song "Look For the Truth."
Steve Harris had been of a fan of West Ham United F.C. since he was nine. A crest for the football team can be seen on his signature white-and-blue bass.